Pierre Lorillard's family were wealthy tobacco magnates who owned country property in Tuxedo Park, just outside New York City. At a formal ball held at the Tuxedo Club in October 1886, the young Lorillard wore a new style of formal wear for men that he designed himself when men only wore Tailcoats with white bowties. Lorillard had the tails removed from his Tailcoat and wore the Satin Lapel Dinner Jacket to the First Autumn Ball. He named his tailless black jacket the tuxedo after Tuxedo Park. The tuxedo caught on and became fashionable as formal wear for men.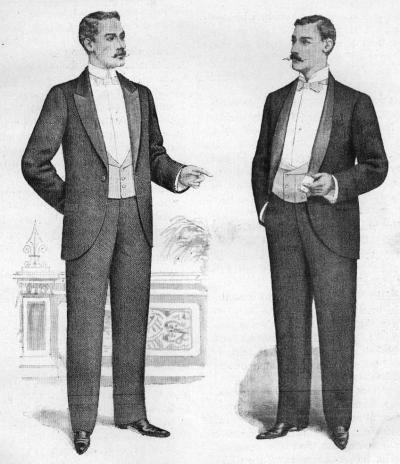 An ad for formal dress, circa 1912.  New York Public Library
The story of how the tuxedo made its initial debut in American society dates back to the Gilded Age, when the founders of the posh Tuxedo Park resort in Orange County, N.Y., are thought to have introduced the coat at their exclusive sporting club. This fall, current residents of the Park, along with the local historical society and the distinguished Savile Row clothier Henry Poole & Co., plan to celebrate the legacy of the tuxedo in a manner befitting its eminent birth. But significant questions linger, like when and where the coat was truly born or why it's called the tuxedo.
For generations, one account eclipsed all others as the creation myth of choice.
This version of events credits young Griswold Lorillard, the son of Tuxedo Park developer and tobacco magnate Pierre Lorillard IV, with inventing the dinner jacket on a whim after getting frustrated that his tails were interfering with sitting and dancing. In October 1886, at Tuxedo Park's Autumn Ball, an annual gala honoring debutantes, Griswold and a few of his friends emerged in tailless dress coats and scarlet satin vests. Their unconventional attire was enough to turn heads, not to mention ruffle the feathers of the old guard. Town Topics, the leading society magazine of the day—and the only major publication is known to have recorded the incident at that time—compared the boys to "royal footmen," adding that they "ought to have been put in strait-jackets long ago."